About
Lighthouse Aged Care
We are ready to support you to make the transition
Apel's Consultants was formed over 10 years ago as an advocacy service assisting clients with all types of personal property and business solutions for purchasing. Over the last few years, it has evolved to include aged care advocacy, where Paul offers specialist advice and services to seniors and their families via Lighthouse Aged Care Specialists.
Transitioning into higher care can be a difficult time with added stressors, endless questions and a sense of the unknown that can cause clients to feel anxious. We are here to take away that fear and uncertainty and light your way.
We are aged care specialists passionate about helping our clients make well-informed decisions when taking the next step. He makes the experience of a lifestyle change a stress-free and enjoyable one.
In the first meeting, many of our clients are confused and sometimes distressed. Some clients are in a state of paralysis, feeling overwhelmed and like they don't know enough about the process to make an informed decision about their future. Without someone to guide and educate them along the way, they can feel pressured into making quick decisions that aren't in their best interest.
We alleviate your anxiety and remove these stressors by taking control of the process, providing a completely transparent and professional experience. We save our clients time and money as their trusted advisors and representatives, with the option for them to be involved as much or as little as they choose.
Helping you with a stress-free transition into aged care
Director & Aged Care Placement Specialist
Paul was originally a primary producer from the Brisbane Valley-Esk area and has lived in south-east Queensland all his life.
His rural background allows him to relate to elderly people in an easy and comfortable way, building trusting long-term relationships.
Paul's empathetic and compassionate nature coupled with his professional knowledge and experience ensures a trouble-free experience with a solutions-based outcome.
Paul currently lives in Toowoomba where his main office is based. He enjoys spending his spare time with his four children, following their personal and working achievements. 
Paul's second passion is boating, and when time permits he enjoys spending time at the water. The name Lighthouse Aged Care Services was inspired by the way a lighthouse guides ships safely to port.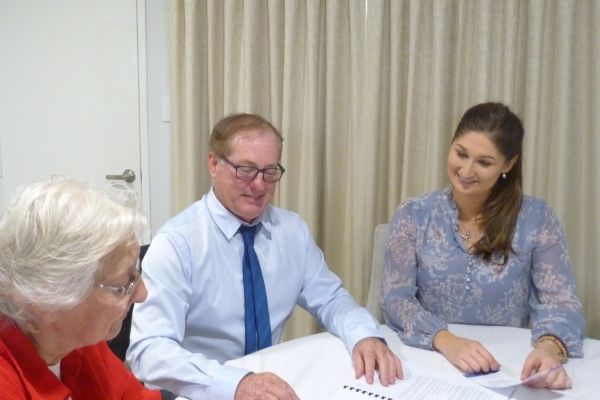 Client Services & Business Development
Chantelle has lived in Toowoomba most of her life and loves calling Toowoomba home. With over 7 years of experience in real estate administration, marketing, sales, customer service and business development, Chantelle is confident in her role assisting Paul.
From processing paperwork and client liaison to preparing marketing collateral and managing social media, Chantelle's role is diverse and essential to the exceptional service we provide.
With a passion for community involvement, Chantelle applies her compassionate and empathetic nature seamlessly to this position, valuing the opportunity to assist and guide our clients at every turn.
Chantelle has a Health Services Support Kit certificate from Tafe and is a proud volunteer with Delta Therapy Dogs, adding to her value here at Lighthouse Aged Care Services.